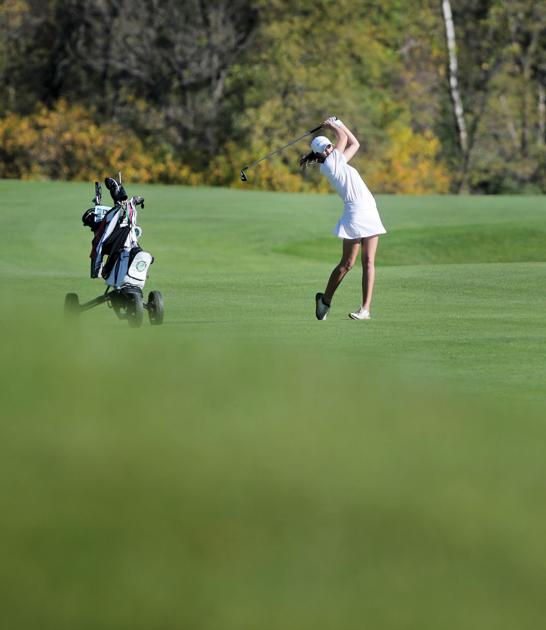 The 2018 high school fall sports season officially begins this week.
Girls golf teams had their first practices Monday, while girls swim and girls tennis began practice Tuesday.
Janesville Craig and Janesville Parker's golf teams are the first local teams in action, as they tee it up Thursday at the Verona Invitational at Edelweiss Golf Course.
Milton's girls golf team, which finished as the WIAA Division 1 runner-up at the state tournament last year, also competes Thursday.
The Red Hawks open the season at the Watertown Invitational. Both Parker and Milton are back in action Friday at the Edgewood Invitational.
Here's a quick look at the three fall sports beginning this week and what to look for:
Girls Golf
Parker has been a mainstay in the upper half of the Big Eight Conference standings under coach Mary Ross, and this year shapes up to be another successful one for the Vikings.
Led by senior Sophia Dooman, the Vikings have five solid varsity players, according to Ross. Dooman was a first-team all-Big Eight selection a year ago and qualified for state individually.
"We were a little young last year, so this year we've got a little bit more experience," Ross said. "We've been in the top three in our conference nearly every year, and with what I think will be an even more wide-open race this year, I see no reason we can't be in the mix again.
"We've got excellent leadership with Sophia and Ashlyn Burdick. They've done a great job getting our up-and-coming players ready to play at the varsity level. We're really excited to get things going."
Craig returns two golfers that earned all-conference recognition a year ago. Sophomore Kallie Lux was a second-team selection, while junior Sara Nerad was honorable mention.
Milton continued its strong showings at state last year. The Red Hawks were second for the third time in eight years in Division 1 and have finished sixth or better at state in seven of the last eight years.
Ashton Stair, a 2011 Milton graduate and the 2010 Division 1 state champion, is co-head coach this season along with 2014 Milton grad Brady Farnsworth.
They are replacing Kirk Wieland, who is taking a one-year leave of absence, Milton athletic director Brian Hammil announced last week. 
Stair believes the Red Hawks have the pieces to make another strong state run this season.
"We've built a strong tradition here through great coaching and girls that have a passion for the game," Stair said. "Taylor (Hakala) and Claudia (Seeman) give us two strong players at the top of our lineup, and we've got some good younger players that are ready to contribute, as well.
"I hope to be able to help the girls with the mental aspect of the game, along with course management. Brady and I are excited about the opportunity."
Milton did lose Mia Seeman, who won the Division 1 individual state title last year.
Among the other top area returnees is Lake Geneva Badger junior Holly Murphy, who qualified for the Division 1 state meet last year.
Girls Swim
Craig must replace arguably the program's most prolific swimmer ever in Erin Donagan. The Oakland University signee was a four-year state qualifier and capped off a prolific career by finishing fourth at state in the 200 individual medley.
Sommer Rhodes returns to lead the Cougars. The senior was 13th at state in the 500 freestyle last year.
Craig first-year coach Charlotte Davies had a full pool the first day of practice. A total of 41 swimmers came out. Davies swam collegiately at Division I Southern Illinois and welcomes the chance to take over Craig's program.
"It's important to try to come out of every meet with a win, but it's even more important to set goals for the season and to come out and work hard to achieve them," Davies said.
"I want to be able to teach life lessons in and out of the pool. It's a busy pool right now, but that's a good thing."
Parker will once again co-op with Evansville. The Vikings are coached by former Craig standout Derek Schneider.
Ella Houwers of Whitewater leads the list of area returnees. The sophomore was second in Division 2 in the 100 breaststroke. Teammate and junior Brianna Zimdars was 12th in the 500 freestyle.
Milton junior Danielle Cramer was ninth in the 100 backstroke and 15th in the 100 butterfly at the D1 state meet, while Edgerton junior Gaby de Moya-Cotter was ninth in the D2 100 butterfly.
Girls Tennis
Things appear to be looking up for Parker this season. The Vikings were 0-8 in the Big Eight last season, but coach Jon Lauer believes the 2018 team can make strides forward.
"We're heavy on seniors this year, but we've also got some young talent that is going to contribute at the varsity level," Lauer said.
"We return our No. 1 singles player, along with two others that I can mix and match at either No. 1 singles or as my No. 1 doubles team."
Senior Cassie Hanley played No. 1 singles last year for the Vikings, while incoming freshman Annie Barnes is an impact-type player, according to Lauer. Sophomore Lydia Quade is also expected to play either No. 1 singles or at No. 1 doubles with either Hanley or Barnes.
The Craig girls, under coach Steven Mickelson, must replace Maycee Maslonka, along with the doubles team of Allison Hainstock and Michiko Fukushima, all of whom were state qualifiers.
Elkhorn senior Gabby Richardson and Lake Geneva Badger sophomore Annabell Alberts were Division 1 state singles qualifiers a year ago, while Walworth Big Foot/Williams Bay junior Clare Heckert qualified in Division 2 singles.
SOURCE: GoogleNews